Fine Art By: Michael Schuessler 
My Medium/My Process;
       As I begin new work, I start with a blessing, giving thanks for the creativity that resides and flows though me. I then create the stretchers/frames, "The Bones" of the canvas. Hand building, sanding and sizing them, having a 2" reveal on the sides so that when I apply the High grade Blemish free canvas or "Skin" over the frames it's creating depth even before any color is applied. Then I apply the color or "Spirit" and the movement, "The Energy" over the face and around the sides, this allows for a more expansive feel to the work. So there is no confinement or restriction felt when viewing the work from any direction. A 3- dimensional body with the breath of life & light infused within.
     I use very high-grade Pastel Pigments, Gold, Copper and Silver leaf, and Mica applied to the canvas in a series of transparent layers with a special formulated acrylic-bonding agent. This was created especially for my mentor, Nancy Hannum, she then passed it on to me.
This medium is 100% Archival and UV protective. It allows the properties of the pastel pigments to reflect light from all angels. Pastel pigments are the only pigment that actually has facets like a diamond when looked at through a microscope. I apply this in a series of transparent layers. This is a medium & technique that is uniquely special, that no one else produces, Created by my mentor and friend in the 50's-60's, She shared it with me during an intense apprenticeship in the late 70's –early 80's. I was sworn to secrecy as far as the properties of the binding agent and the application process. Only now after Nancy's passing (My Mentor) am I able to pass it on to others.
I find that this medium, above all others, allows Spirit to flow through me, and that I can infuse that Spirit into the canvas, through color and movement. This way One can find a connection to the work, the spirit of the body of light I have created.
 For the whole of this lifetime, I've practiced the Healing Arts; the esoteric Kabbalah, Healing with Sound and Color, Symbolism, Tarot, Astrology, Numerology, the Language of Angels. This allows me to channel that Spirit and that Healing to you, through the canvas, I want you feel the healing colors, see the movement the vibrations of energy engaging the spirit within you. These are Vibratory formulas of light and color.  "Energy works of life"
Achievements
Born in Germany Michael moved to the US at the tender age of 4. His first sale was at 13 to a Larkspur Colorado Postmaster. (dragon with Acrylics on canvas). Moving from pencil to latex to oil, acrylics and finally to chalk pastel on raw canvas. This medium was taught to Michael by well known Denver  Artist Nancy Hannum a very special teacher with a very special technique, where she swore him to secrecy. He has been perfecting his craft for the last 35 years.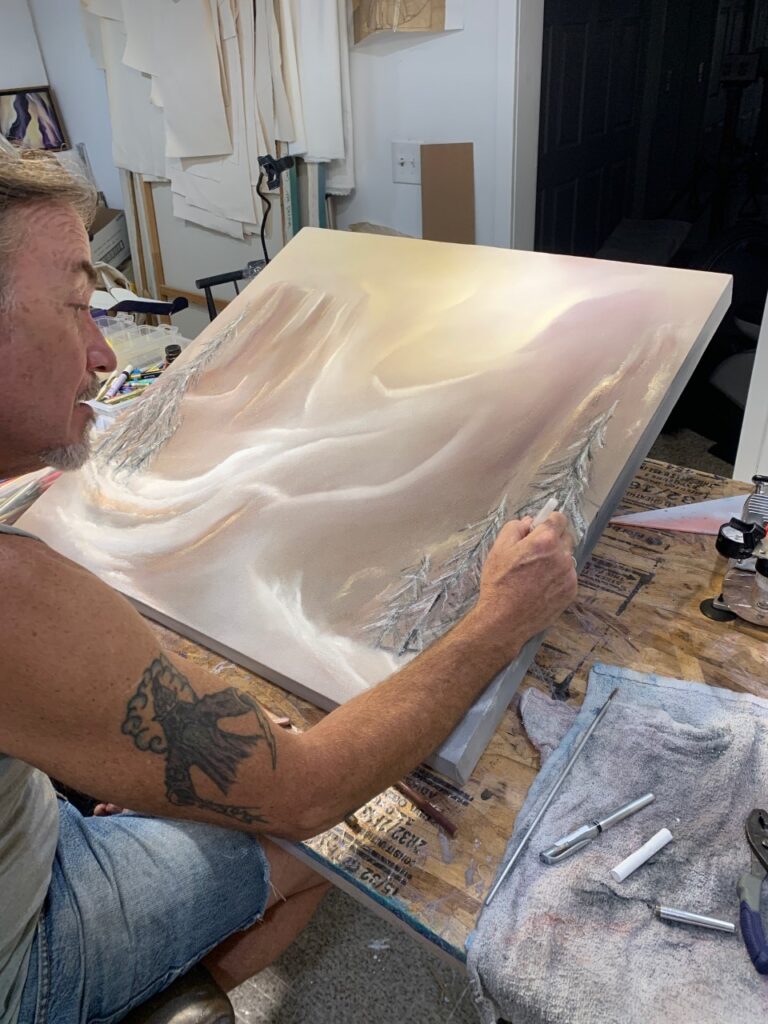 Awards
Blue Ribbon Events, Art show Fort Myers, Florida First Place ribbon 2022
Colorado Artfest at Castle Rock First Place ribbon for Drawing/pastels 2021
Indian Wells Fine Art Show Ribbon Winner Indian Wells CA (Indian Wells Art festival ranked as top 100 art festivals in the US) 2019
CBS channel 4 "One of the top 5 Art Studios in Denver 2012

Best of Show 23rd Ave, Sculpture Studio Colorado 1995

Best of Show Blue Creek West Gallery, Colorado 1989

Best of Show, the News Gallery; Colorado 1989
One Man Exhibitions – To name a few
Blue Creek West Gallery CO 1991
The Yellow Brick Rd. Gallery TX 1991-1993
Metro Funding Corp, Denver 1991-1992
The Pavilion Gallery TX 1993, 1994, 1995
Keller Williams Realty, CO 1996
Michael Schuessler Fine Art Gallery- Larimer Square; Denver CO 1999-2006
Wallace Fine Art- Longboat Key FL- 2006-2010
Group Exhibitions
The Denver Center for Performing arts 1999;
Kaiser Permanente Holiday Card Contest & Exhibit CO 1995; Artopia CO 1997-2001
23rd Ave Sculpture Studios CO 1995-2001
Wallace Fine Art Studio, Florida 2000-2006
Show Homes
Parade of Homes (Palisades) CO 1990;
Parade of Homes(Remark Homes, Paragon) Colorado 1992; Parade of Homes (Golden Design Group, Signature)Colorado 1992
Parade of Homes (Bronsert Construction, Payne Interiors, Colorado 1993
Benefits
(Ice House, Art against Aids, CO 1990,
(Colorado National Bank, Special Olympics) CO 1992;
Design Alliance, The hospice of Saint John Colorado 1992 to name a few
Educational Productions
The Art Scene with Donna Sell , 30 minutes TV instructional Interview 1989-1991
Ballet Arts Theatre, works projected as backdrops in the performance of JOB "A Masque for Dancing 1995
Denver's Heartbeat- Back drop for Denver Music show 1998-2004
Education includes
(Design and Graphics, Wild times Signs,
Nancy Hannum Colorado Academy,
Robert Stromieher Metro State University, Denver Art Museum and the Studies of the Mystical Tradition of the Kabalah, Healing with Sound and Color.
Several Corporate Collections include
Almsford Grange, Rest Home; England
The Acupuncture Wellness Center; Hawaii
Bacardi; Miami Florida
The Miracle Center; Colorado
Town Halls Art Center; Colorado
Menu Dynamics, California
Published Works
The Cube of Space, Kevin Townley, Archive Press 1994
Gallery Magazine 2005-2006
Ok Magazine 2006
The Holy G-rail, Book, 2006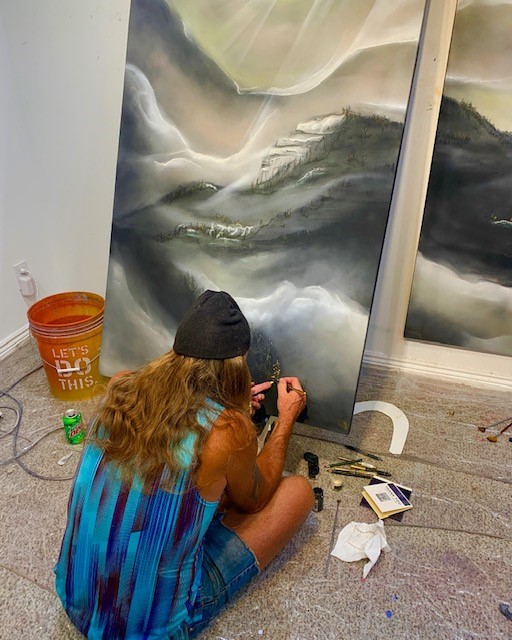 Contact Michael
email: Mschuessz@msn.com
Phone 720-519-3696